Room sales, for which the Chicago Show is famous, start 4 days prior to the Sunday Show. The room sales started because vendors and friends looked forward to seeing each other at the Show and would arrive prior to the Show to socialize and trade. Over time, this informal trading became formalized into Chicago Toy Soldier Show room sales.
We hope you will join us in the fun of CTSS room sales!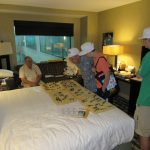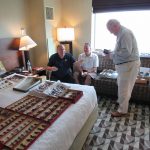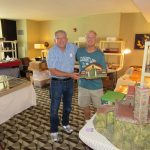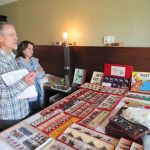 Hyatt Hotel guidelines for Room Sales:
The Hyatt provides an 8-1/2"x11" vertical clear plastic door hanger sign for your room; CTSS supplies the cards to fit this format. (Fire regulations prohibit hallway signs or displays.)
In each floor's foyer, CTSS posts a large floor plan and dealer room list. Individual copies of the floor plan will be available. The Hyatt also provides an information table on each floor; please limit any handouts to 5″x8″ so there will be space for all.
Room doors may be open from Thursday through Saturday from 10 a.m. to 10 p.m.; before Thursday, please use the deadbolt to prop your door ajar.
Room furniture may not be moved into the hall or rearranged in your room. A 6'x18″ table may be rented for $10.00 at check-in, for single or double rooms. Table arrangements for larger rooms must be made with the Hyatt on a room-by-room basis. All Hyatt furniture used for room display must be covered; the Hyatt will provide tablecloths on request.
Guests are responsible for any damage to their rooms. Displays that could damage walls or furniture are not allowed. Please check your room when you first take occupancy, and immediately report any existing damage or problem with your room to the hotel staff.
NO SMOKING in Hyatt rooms or exhibit areas.
Contacts for Additional Show Information